Foams designed to meet the medical industry's expectations with quality and performance
Manufacture of technical foams
Our range of high-density PE (polyethylen) and EVA (ethylene vinyl Acetate) foams, as well as our low-density Plastazote® and Evazote® foams , were designed to meet the industry's expectations regarding shock absorption, comfort, durability, and write-off while ensuring both high quality and performance. Our closed cell foams are available in a wide range of colours and thicknesses and guarantee excellent mechanical properties. Our experience and wide product range help us meet any type of requirement.


However, if you do not find a solution to your needs among our ranges, our laboratory is at your disposal to work on and test new developments.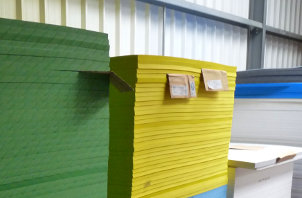 Our History

Created in 2004, carefoam specialises in the distribution and conversion of closed cell foams such as Plastazote, polyethylene, and EVA for the industry.
Our areas of activity :
- Packaging, protection, comfort
- Thermal insulation, expansion joints, gaskets
- Sectors: medical, automotive, aviation, sports and leisure
Our main production processes :
- Rip-cuts, press cutting, digital die-cutting, digital milling
- Lamination, complex gluing, textile, film, foam
Over the last few years we have developed close partnerships with manufacturers of very high-quality foams. Moreover, we specialise in research relating to new materials for the industry and we are building our reputation as a company that continuously strives for high quality.